Kenra Daniels ~ Kick-Ass Stories With Heart
Steamy Paranormal Romance ~ Inspirational Erotic Romance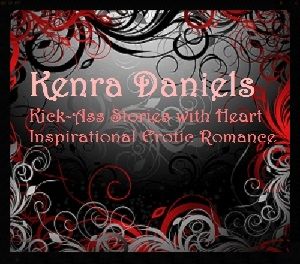 Kenra's Blog
Stop by my blog for the latest information about what I'm working on, and tons of other stuff - some fun, some serious, all great!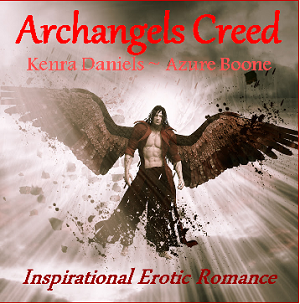 Archangels Creed
Visit the website for the latest insider info on this vast and groundbreaking series co-written by Yours Truly... Errr, Kenra Daniels, and the lovely Azure Boone!
Azure Boone's Blog
Stop by Azure's blog and website for a glimpse into her world and to get her fun and unique perspective on life.
I crank up the heat and deliver kick-ass stories with heart. Packed with action, suspense and romance, spiced with horror, fantasy and whatever else turns up, my books are unlike anything you've ever read. The relationships sizzle while the characters struggle against unbeatable odds. Will they and their love survive?
Why Inspirational Erotic Romance? Romance as a genre has long been criticized as shallow and unrealistic, and Azure and I feel that we've hit on at least part of the reason. We understand humans consist of three aspects often designated as Body, Mind, and Spirit. We also know that to be truly healthy in all ways, humans need to balance the three parts of their beings. When we look at today's Romance novels, we can see portions of those things addressed, often in a haphazard fashion. The Mind and Body are usually predominant ingredients, but if Spirit is present at all, it's normally only in small amounts. Our goal with Inspirational Erotic Romance is to address all the parts of our characters and their relationships, and thus satisfy the Reader's need for a well balanced story that includes all the essential parts of humanity. Inspirational Erotic Romance is so new that, as you read our books, you are witnessing the birth and growth of a genre. Join us as we define and explore this exciting new area of Romance!